Serves 2 Gluten Free Recipe (Our Version of "Steak and Eggs" will be on every burger menu)
For the Burger: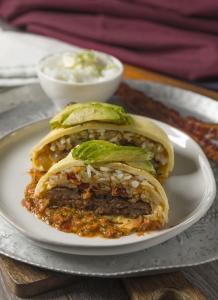 2 Angus Craft Burgers (6 oz.)
4 Eggs
4 tbsp. Milk
4 tbsp. Butter (Cubed)
4 Strips Bacon (Cooked Fully)
4 tbsp. Cup Onions (Caramelized)
½ Cup Hash Brown Potatoes (Shredded)
1 Avocado (Sliced)
Salt and Pepper – to taste
For the Charred Tomato Sauce:
2 tbsp. Extra Virgin Olive Oil
4 Plum Tomatoes
¼ White Onion (Kept in a whole piece)
1 tbsp. Garlic (Roasted and Mashed)
2 tbsp. Cilantro
½ Cup Whole Peeled Tomatoes (Pureed in juice)¼ Lemon (Zested and Juiced)
Salt and Pepper – to taste
Phase 1: Grill Broiler, Blender
Mix the tomato and onion with the olive oil and cook both the interior and exterior of the ingredients until softened on the inside and charred on the outside. In a blender, add the remaining ingredients and pulse lightly so the sauce is not pureed smooth.
Phase 2: Large Omelet or Non-Stick Pan (Preferably 9-10 inches in diameter) and Oven (if needed)
To make the egg wrap, mix the eggs and milk together and fully incorporate. Heat 2 tbsp. of the butter over medium to low heat and add half of the egg mixture to create a thin or crepe style omelet. Due to the large size of the egg omelet, as long as you create the initial surface of egg, you can finish the omelet in the oven at 350 degrees for 4 minutes instead of tearing the omelet by flipping it. Repeat to create the second egg wrap and reserve to assemble the burger.
Phase 3: Oven, Grill, Broiler, Sauté Pan
To prepare the burger, cook completely to 165 degrees. Combine the bacon, caramelized onions, and hash brown potatoes together and season with salt and pepper. To assemble, lay an omelet flat on a surface and place the burger in the center, top the burger with half of the potato mixture, then fold over into the middle of the burger to seal all edges and invert so the burger is on the top half of the potato mix. Top the burger with the avocado and serve with the Charred Tomato Sauce.
Tip: To create the egg wrap, be sure to fully incorporate the egg and milk together, try using a blender to add air and mix completely. This will also create fluffier omelet.
Total prep/cooking time: 25 minutes
Recommended Sides:
4 Strips of Bacon or Sausage Links
2 Cup of Cooked Grits
http://rastellibutchershop.com/wp-content/uploads/2019/09/Egg-Wraped-Breakfast-Burger-428.jpg
5253
3730
Rastelli Butcher
http://rastellibutchershop.com/wp-content/uploads/2018/09/rastelli-logo1-1.png
Rastelli Butcher
2019-09-04 03:47:27
2020-03-20 15:32:11
Egg Wrapped Breakfast Burger with Charred Tomato Sauce