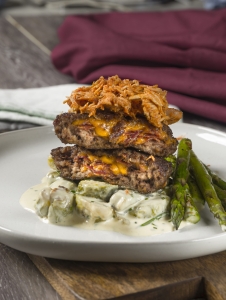 Serves 2 Keto Diet Recipe (You'll forget that burgers usually came with a bun with Dijon butter and cheddar cheese)
For the Burger:
2 Angus Craft Burgers (6 oz.)
2 tbsp. Cheddar Cheese (Shredded)
2 Strips Cooked Bacon (Chopped)
Salt and Pepper – to taste
For the Brussels Sprouts:
½ lb. Brussels Sprouts (Halved and Oven Roasted)
1 Cup Heavy Cream
2 tbsp. Dijon Mustard
3 tbsp. Unsalted Butter (Cubed)
2 tbsp. Parmesan Cheese (Grated)
2 tbsp. Chives (Finely Chopped)
Salt and Pepper – to taste
Phase 1: Sauté Pan
Oven roast the Brussels sprouts in a 350 degree oven for 12 minutes or until the interior is softened and the outside is crispy, keep warm to add to the sauce. In a sauté pan, simmer the cream over medium heat for 3-4 minutes and add the Dijon mustard. Whisk in the butter and parmesan cheese until all ingredients are fully incorporated and add the Brussels sprouts. Season with salt, pepper, and chives and reserve for the finished burger.
Phase 2: Oven, Grill, Broiler, Sauté Pan
To prepare the burger, slice a thawed burger in half to create two equal circles. In a bowl, mix all the cheddar cheese and bacon together and place equal parts of the filling in the center of one of the burger halves, leaving about ½" from the edge. Place the other half of the burger on top and seal the edges, forming the burger into a round, flat shape. Proceed to cook the burger on both sides for 5-6 minutes or until the burger has reached an internal temperature of 165 degrees.
Tip: When stuffing burgers it's important to press the meat as evenly as possible so it cooks evenly, using a meat mallet between parchment paper or plastic wrap works best.
Total prep/cooking time: 15 minutes
Recommended Sides:
½ Bunch Grilled Asparagus
1 Cup Pulled Pork for topping the burger
http://rastellibutchershop.com/wp-content/uploads/2019/09/Bacon-Chedder-Stuffed-Burger-400-min.jpg
5204
4480
Rastelli Butcher
http://rastellibutchershop.com/wp-content/uploads/2018/09/rastelli-logo1-1.png
Rastelli Butcher
2019-09-04 06:45:46
2020-03-20 15:31:56
Cheddar & Bacon Stuffed Burgers with Oven Roasted Brussels Sprouts in Dijon Butter