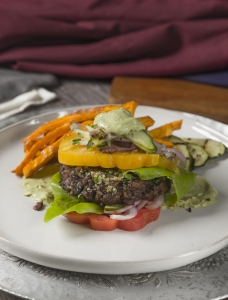 Serves 2 Paleo Diet Recipe (This burger is so irresistible, try to remember there isn't a bun so hands off!)
For the Burger:
2 Angus Craft Burgers (6 oz.)
2 tbsp. Extra Virgin Olive Oil
2 tbsp. Garlic (Finely Diced)
2 tbsp. Cilantro (Finely Diced)
2 tsp. Jalapeno Pepper (Finely Diced)
Salt and Pepper – to taste
For the Avocado Puree:
1 Avocado (Kept Whole, Seed Removed)
1 Lime (Juice Only)
¼ Cup Mayonnaise (Made with Eggs and Extra Virgin Olive Oil)
2 tbsp. Sesame Seeds (Toasted)
Salt and Cracked Black Pepper (to taste)
For the Hamburger Stack:
4 Slices Seasonal or Heirloom Tomato
4 Leaves Bibb Lettuce
¼ Cup Red Onion (Thinly Shaved)
¼ Cup Cucumber (Thinly Shaved)
2 tbsp. Extra Virgin Olive Oil
½ Lemon (Zested and Juiced)
2 tbsp. Black Olive (Finely Chopped)
Salt and Cracked Black Pepper (to taste)
Phase 1: Mixing Bowl, Food Processor or Blender
In a blender or food processor, puree the avocado and the lime juice first, then add the mayonnaise and blend until fully incorporated. Stir in the sesame seeds and seasoning. In a small mixing bowl, add the red onion, cucumber, olive oil, lemon (both zest and juice) and chopped olives together and reserve for assembly.
Phase 2: Oven, Grill, Broiler, Sauté Pan
To prepare the burger, cook on each side for 2 minutes each over high heat. Remove from the heat and apply the olive oil, seasoning, garlic, cilantro, and jalapeño pepper. Continue to cook the burger on both sides until it has reached an internal temperature of 165 degrees. To assemble the burger line the plate with the avocado puree, tomato, lettuce, onion mixture and then the burger. Proceed to add an additional layer of the tomato, lettuce, and onion mixture and top with more of the avocado puree.
Tip: When enhancing the flavor of a meat, it's always best to add the ingredients halfway so that the additional flavoring does not burn while protein finishes cooking.
Total prep/cooking time: 20 minutes
Recommended Sides:
½ lb. Sweet Potato French Fries
1 Cup of Grilled Zucchini
http://rastellibutchershop.com/wp-content/uploads/2019/09/California-stack-Burger-439-min.jpg
4629
3521
Rastelli Butcher
http://rastellibutchershop.com/wp-content/uploads/2018/09/rastelli-logo1-1.png
Rastelli Butcher
2019-09-04 06:13:26
2020-03-20 15:32:03
California Steak Burger Stack