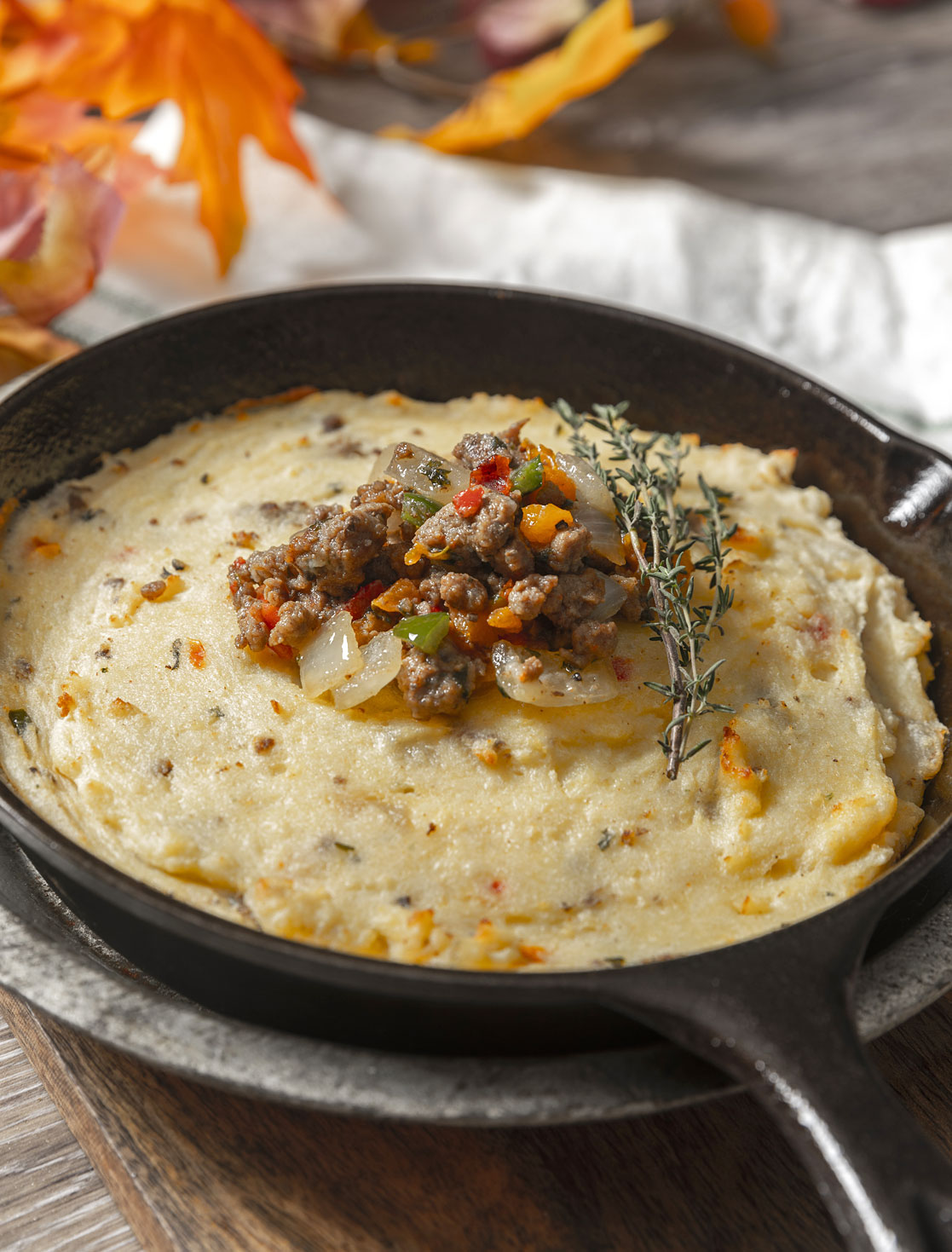 When the weather starts to change so do our appetites. Shepherd's Pie is one of those classic dishes that has everything you need to keep warm and cozy. Traditionally a dish of leftovers originating in the UK, Shepherd's Pie has become an elevated menu item appearing in Gastropubs across the country.
Shepherd's Pie

Fresh Rosemary
Fresh Thyme
1 lb. Craft Burger Beef or Ground Lamb
Salt
Pepper
Garlic Powder
Diced Carrots
Diced Bell Peppers
Diced Onions
In a large plan, warm 1 Tbsp. of oil and add Rosemary and Thyme. Sauté for 1-2 minutes until the oil has taken on the aroma and flavor of the herbs. Remove the herbs from the oil.
Mix together Craft Burger Beef or Ground Lamb with Salt, Pepper and Garlic Powder until crumbled. In same pan used for the herbs, brown the meat for 1-2 minutes, stirring frequently. Add the diced vegetables until just softened and remove from heat. Drain and place into an over safe casserole dish or cast-iron skillet.
2 pounds potatoes (Mix Yukon Gold and Russet Potatoes)
1 Tbsp. Garlic, Minced
Fine Sea Salt, to taste
2 Tbsp. Butter
1 cup Whole Milk
1 oz. Cream Cheese (Room Temp)
Peel the Potatoes then cut them into evenly-sized chunks, about an inch or so thick and put in a large pot full of cool water (enough to sit about one inch above the potatoes).
Stir the Garlic and 1 tsp of sea salt into the water. Over high heat, bring water to a boil. Reduce heat to medium-high and continue cooking for about 10-12 minutes, or until a knife inserted in the middle of a potato goes in easily. Drain all of the water and return to the pot.
While the potatoes cook, heat the Butter, Milk and an additional 1 tsp of sea salt together in a small saucepan until the butter is just melted. Set aside.
Place the potato pot back on the eye and turn the heat down to low. Sauté for 1 minute to cook off the remaining moisture and steam within the potatoes. Remove from heat and cool. Mash the potatoes to your desired consistency. Pour in the butter mixture and Cream Cheese until they are just blended. Add additional warm milk and butter as needed to reach a creamy consistency. Season with additional salt as needed.
Place a thick layer of potatoes over the Craft Burger Beef and bake until potatoes are turning golden brown at the peaks. OPTIONAL: Top with additional Craft Burger Beef if desired and garnish with fresh thyme.
http://rastellibutchershop.com/wp-content/uploads/2019/10/rastelli-butcher-shop-shepherds-pie-recipe.jpg
1469
1117
Rastelli Butcher
http://rastellibutchershop.com/wp-content/uploads/2018/09/rastelli-logo1-1.png
Rastelli Butcher
2019-10-14 14:53:14
2020-03-20 15:31:37
Quick & Simple Shepherd's Pie